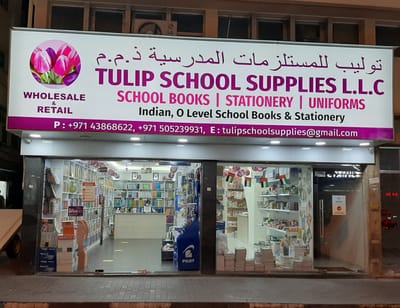 We have great pleasure to introduce ourselves as one of the front-runners in educational material distributors based in New Delhi(India), now expending towards Middle East Countries.
Since inception
TULIP SCHOOL SUPPLIES L.L.C
has made rapid strides in establishing itself a name to reckon within field of school services in terms of quality and client satisfaction.
with the constant support of our stakeholders, our range of distribution includes more than 100 prominent publishers. Our wholesalers portfolio consists of reputed booksellers & schools for books, stationery and uniform which are spread across UAE with export distribution spread about the globe.
OUR STRENGTH:
We also specialize in manufacturing customized school notebooks and uniforms.
We are already serving several customer in New Delhi, UAE, Africa and across the globe.
CLIENT SATISFACTION:
Being a customer centric business organization, our main aim is to secure the interest of our client by offering premium quality goods and services to them at reasonable and competitive prices.
We have succeeded in generating tremendous applause from our clients segment in response to what we provide to them at affordable prices and on time. From so many years we have mastered the art of caring for our client by offering quick response to their queries, this has created a sort of belong ingress in our clients.